Sticky Rice (Jung)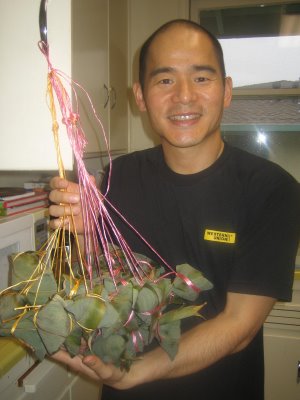 My mom taught me how to do this recipe, over 25 years ago, so this is a tribute to you, Mom! It took me all day, but I was so excited and so proud that I could do this, remembering back from my childhood, and trying to do it just like Mom did.

Ingredients:-
Vietnamese or Thailand Sticky Rice
Bamboo leaves
Red beans
Black eye peas
Dry shitake mushroom
Green onions
Chinese 5 spice
Vegetable oil
Salt
Strings (for tying)

Methods:-
It takes some practise to get this done. However, it is fun to make Jung with friends, neighbours and family members.
Labels: Appetizers, Rice