Orange Truffle Salad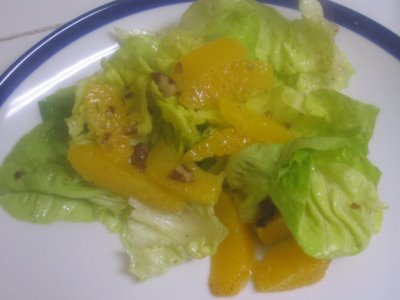 The beauty of this dressing is you don't see any dressing. A clear dressing is something different, where you see the beauty of each food through a transparent glossy glaze. What makes this recipe luxurious is the Truffle Oil. If you can find a reasonable truffle oil, it's worth it. It can last a long, long time in many different recipes. The freshness of the orange juice, the richness of the truffle oil, the sensuality of the orange slices, makes this salad come together in one explosive taste sensation!

Ingredients:
Butter Lettuce - 1 head
Truffle Oil - 1 tsp
Olive Oil - 1 1/2 tbsp
Garlic Salt - 1 tsp
Orange - 2 sectioned
Orange Juice - 3 tbsp
BBQ Seasoning - 1/4 tsp
Candied (Glazed) pecans - 2 tbsp (You can buy this in a store, or make homemade)

Recipe
Mix all ingredients together
Toss

Plate it, eat it, and you're in heaven!
Labels: Salads