Soft Gingerbread Cookies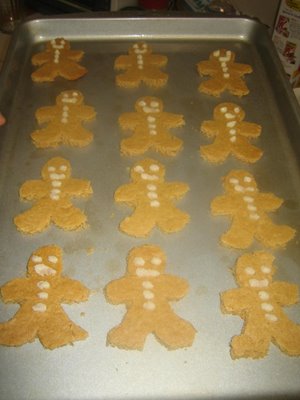 You know what I'm talking about - those storebought gingerbread cookies are hard as a rock. I made this recipe up an hour before meeting my boyfriend's family for Thanksgiving, because I wanted to give everyone a little treat. We didn't even have cookie cutters, that's ok! We drew out a gingerbread pattern from online, made a wax paper template, and cut them out ourselves from the dough!

2 Eggs
butter - softened- 1 1/2 sticks
Vanilla extract - 1 tbsp
Brown sugar - 1 cup
white sugar - 1 cup
ginger powder - 2 tbsp
maple syrup (leftover from a friend in Canadawho gave me a souveneir)
- 1/4 cup
baking soda - 1 1/2 tsp
all purpose flour - 2 cups
wheat flour - 1/2 cup

Beat butter,brown and white sugar, and syrup until well mixed
Add the eggs and vanilla, and beat on medium until slightly fluffy
Then add the flour and baking soda, and mix well for a few seconds
cool the dough a little in the fridge, roll out, put on a sheet pan, bake at 375 for 10 minutes or less until the edge is a little brown.

Then take out and cut into gingerbread shapes, and add quick frosting touches. You'll have a soft homemade gingerbread cookie that everyone will be talking about!
Labels: Desserts