Angelnet's Showcase of Fine Art
THE ART OF
MALCOLM MCVICKAR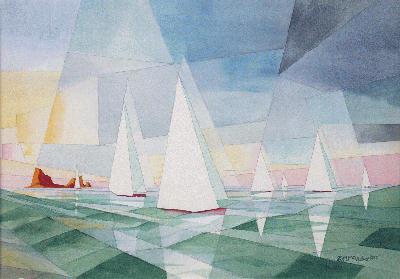 Artist: Malcolm McVickar
Title of Piece: MORNING CALM
Medium: Watercolor
Available Styles: Hand-signed Limited Edition Lithograph
20.5"x28" (Image size 16" x 24"): $275

Contact Information:
McVickar Family Collection
2636 Colombard Ct., St. Helena, CA 94574
Phone: (707) 967-9009, Fax: (707) 967-9008
Email: mcvickar@earthlink.net
Website: http://www.mcvickar.com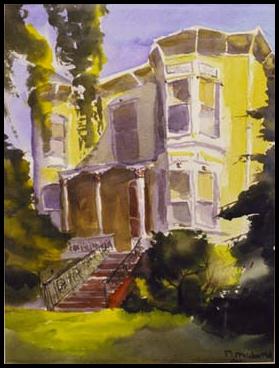 Artist: Malcolm McVickar
Title of Piece: VICTORIAN SPLENDOR #2
Medium: Watercolor
Available Styles: Giclee
Contact Information:
McVickar Family Collection
2636 Colombard Ct., St. Helena, CA 94574
Phone: (707) 967-9009, Fax: (707) 967-9008
Email: mcvickar@earthlink.net
Website: http://www.mcvickar.com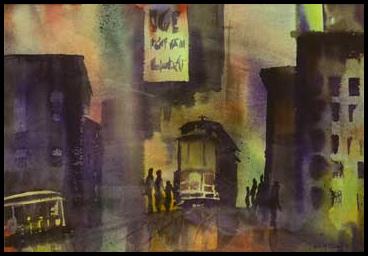 Artist: Malcolm McVickar
Title of Piece: SAN FRANCISCO RAINY NIGHT #1
Medium: Watercolor
Available Styles: Giclee
Contact Information:
McVickar Family Collection
2636 Colombard Ct., St. Helena, CA 94574
Phone: (707) 967-9009, Fax: (707) 967-9008
Email: mcvickar@earthlink.net
Website: http://www.mcvickar.com
Born Tuxedo Park, NY 1915, attended Harvard, graduated from Columbia 1938 with a B.S. WWII, 1/2 year, Lieut. in the Navy, commanded several minesweepers, saw Atlantic, Pacific, and Far East service. Married 1940 to Mardie Kline, 4 children, widowed, married Marion Bullard, also widowed with 4 children in 1973. After 40-plus years in various industrial positions, retired 1985. Lived in the East, Middlewest, and now California (26 years). We now have 9 grandchildren, and live happily in St. Helena among the vineyards of Napa valley, America's "Provence".
As a teenager with mumps, my mother, who was an accomplished artist, gave me a watercolor kit to occupy myself. I have been painting ever since. Though I was kicked out of art class in prep school as a hopeless case, I kept on painting. I painted wherever I was, from the bridge of my minesweeper in the China Sea, the Phillipines, Norfolk, VA. Naval Base, skiing in New Hampshire, camping in Vermont, even the gas works in Houston, rainy night scenes in San Francisco, and the beautiful Napa Valley where every vista is waiting to be painted. Almost every year (since the mumps) I've studied with the best artists I could find, famous or not so famous - all helped me to portray what I saw. My interests are out of control. Beauty is everywhere in the subtleties of light, broad vistas, close-up fragments of scenes, countryside or urban, all cast their spell and find themselves in my work.
This catholicity of taste results in many jury rejections, and also a bunch of awards.
My main inpiration has come from these classical artists: Carravaggio for powerful chiaroscuro style, Lionel Feininger for monumental, mysterious interaction of geometric forms, Charles Burchfield for his strong, contrasting values, Charles Demuth for endowing the ordinary scenes with unique and interesting emphasis, Edward Hopper for his unmatched ability to give loneliness a palpable form, Elliot O'Hara for broad washes and simple, bold composition, Ogden Pleissner for his masterful control of watercolor, John Pike for draftmanship and effective simplification of complex images, John Singer Sargent for his rendition of tactile textures and his vivid treatment of color under different lights, Percy Gray for giving trees such dignity, Thaddeus Welch for his atmosphere, Ted Kautsky, who captured sunlight in a way so realistic that made the viewer squint in its glare and Claude Monet, who painted the light instead of the structure on the Rouen Cathedral.
I am a signature member and past president of Marin Society of Artists. I am also a member of the Wine Country Artists, Napa Arts Council, and San Diego Watercolor Society. My work is in many private collections in England, Ireland, Sweden, and 20 or more states around the U.S.
I paint for the love of it, and hope only that the works will give a sense of joy at "being there" to others.
Chopin said "If I have been able to create some harmony in a discordant world, my life will have been a success". My ideal would be to have stood in the shadow of that thought.
Back to Angelnet's Showcase of Fine Art